Auntie Stella was produced by Training and Research Support Centre (Zimbabwe)
Box CY2720, Causeway, Harare, Zimbabwe
Phone: 263-4-795124
Website: www.tarsc.org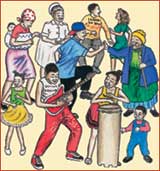 Welcome to 'Auntie Stella'! If you're a teenager, or work with young people, and want to explore and discuss friendship, love, sex and relationships, this site is for you! Read the letters young people have written to Auntie Stella, discuss their stories and her advice, and relate their experiences to your lives too.
And...
The Auntie Stella facilitator's guide and cards are downloadable from the TARSC bibliography. This includes the updated 2019 English version, as well as cards translated into Shona, Ndebele, Chichewa and Swahili.
If you want to find out about our recent publications, go to 'Auntie Stella': News and Views. There are also opportunities for sharing information on youth reproductive health and the use of participatory approaches to health.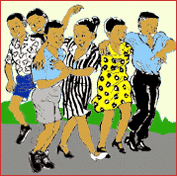 Auntie Stella' was developed in Zimbabwe by the Training and Research Support Centre. It is one of the many resources TARSC produces using participatory methods. 'Auntie Stella' was first produced as a printed pack, with all the letters on cards. It is used with groups of young people, both in and out-of-school. Youth in peer counselling and support groups, including at youth friendly corners in clinics at primary care level, also benefit from and enjoy reading the cards. You can order the pack here.