Auntie Stella was produced by Training and Research Support Centre (Zimbabwe)
Box CY2720, Causeway, Harare, Zimbabwe
Phone: 263-4-795124
Website: www.tarsc.org
New Cards!!!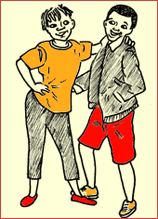 The Auntie Stella pack now has an additional 2 cards on Male Circumcision and Multiple and Concurrent relationships. If you already have an Auntie Stella pack and would like to add these 2 loose cards, then get in touch. These 2 cards are already available with the new packs, so go ahead and order your pack now!
TARSC would like to thank all the young people and the organisations who took part in the development of the new cards.: Thank you very much
Plus! Do you want to be part of an exciting e-list? If you are working with young people, dealing with issues of reproductive health and HIV/AIDS, and want to know more about participatory approaches to building people-centred health systems, join the PRA4equity e-list. Tell us why you would want to be part of this e-list and a profile of your organisation or youth group. write to us.
And…
If you want to tell us anything about your experiences in using 'Auntie Stella', and the impact it's having on youth and organisations, please write to us. We look forward to hearing from you!
So whats new…
TARSC now has in stock copies of English, Shona and Ndebele versions of Auntie Stella. If you would like to purchase a copy, please get in touch. Auntie Stella is also available in Swahili, Portuguese and Chichewa. Contact us for more information.